CLOUD MAPS
---
Click here to view original web page at siteselection.com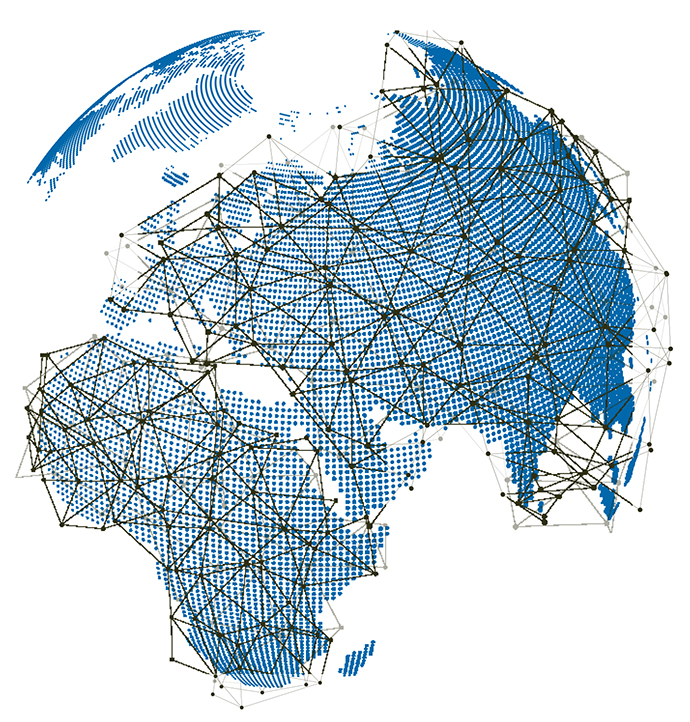 A review of data center projects logged in Site Selection's proprietary Conway Projects Database since January 2015 reveals some immediate, verifiable, data-supported truths:
The heavy hitters from the corporate side are the usual suspects: Facebook, Microsoft, Google and Apple when it comes to enterprise facilities; Equinix, Digital Realty Trust, Switch and T5 when it comes to colocation providers with major global muscle and capital.
The United States leads all nations with 88 facility investments either fully or partially devoted to data centers. Texas is the far-and-away leader with 15, followed by Virginia and Michigan with eight apiece. Other countries' totals are climbing fast: India has attracted 36 projects over the two years. Ireland and the United Kingdom landed 15 projects each, followed by Australia with 13 and China with 12.
Dallas-Fort Worth welcomed a baker's dozen of data centers over those two years. Three cities landed seven projects apiece in the two-year span: Singapore; Dublin, Ireland; and Hyderabad, India. Bengaluru, India landed six; Greater Mumbai five, and Melbourne, Australia, welcomed four. (Many of the India projects are larger business process outsourcing or software development campuses that have a major data center component.)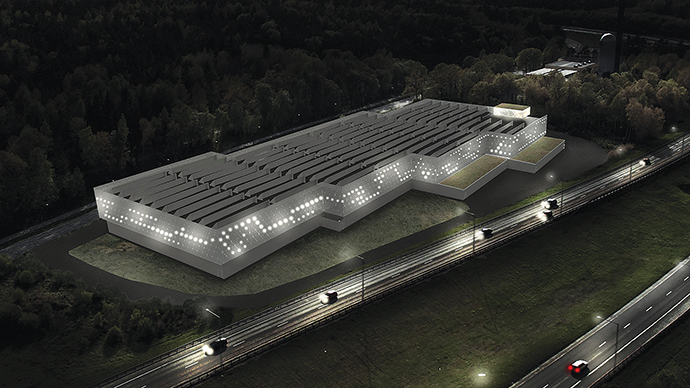 A number of reports issued by experts in the field serve to remind the world's data users — i.e. everyone — that, however much it seems like the data is floating in the air or descending and ascending to some cloud, there is ultimately a physical facility housing it somewhere. Some of those somewheres — from suburban DC in Virginia to London to Frankfurt and Singapore — are busier than others, thanks to robust infrastructure and low signal latency.
Being More Digital
Some companies are busier than others too. Equinix tops the list, including major expansions in Tokyo and London. Decision criteria included hard financials as well as hard wiring:
"With the fifth largest GDP by metropolitan area in the world, London is a key player in the global digital economy," said the company. "With more than 90 network service providers and access to a range of transatlantic sub-sea cables, LD6 is one of the busiest network nodes in the UK, and offers latency in the region of 30 milliseconds to New York and 4 milliseconds to Frankfurt. The facility also houses LINX, one of the world's largest Internet Exchanges, and serves as a virtual financial center for more than 170 financial services companies."
In December, the Redwood City, California–based company announced an agreement to purchase a portfolio of 24 data center sites and operations from Verizon for $3.6 billion — a total of 29 data center buildings across 15 metro areas, serving some 900 customers from 2.4 million gross sq. ft. (222,960 sq. m.). It will bring Equinix's total global footprint to 175 data centers in 43 markets and approximately 17 million gross sq. ft. (nearly 1.6 million sq. m.) across the Americas, Europe and Asia-Pacific markets. That includes approximately 250 Verizon employees who will now switch uniforms to Equinix. It may seem like data storage could happen anywhere, but physical proximity means something.
The U.S. Department of Energy estimates that in 2015, data centers consumed more than 2 percent of all energy in the United States.
"At Equinix, companies can architect a globally consistent platform within local metros," said Karl Strohmeyer, the company's president for the Americas, "keeping their critical data and processing capabilities as close as possible to the digital edge and end-users." Equinix said the acquisition not only expands capacity in existing markets, but "provides a platform for the future expansion of the acquired data centers." And it took pains to point out the importance of network access points (NAPs).
"The NAP of the Americas facility in Miami is a key interconnection point and will become a strategic hub and gateway for Equinix customer deployments servicing Latin America," said the company. "Combined with the Verizon data centers in Bogotá and the NAP do Brasil in São Paulo, it will strategically position Equinix in the growing Latin American market. The NAP of the Capital Region in Culpeper, Virginia, is a highly secure campus focused on government agency customers, strengthening Equinix as a platform of choice for government services and service providers."
Digital Realty Trust isn't one to cower from competition. Its global footprint of 156 data centers is growing too. Last June it opened its Digital Loyang Way facility, a 177,000-sq.-ft., 13.2-MW center on the east side of Singapore, which will be connected to Digital Realty's Jurong data center on the west side of the island via both dark and lit fiber services.
"The expansion of our footprint in Singapore underscores the city-state's unique location at the heart of the digital economy across the Asia Pacific region," said A. William Stein, Digital Realty's CEO.
DRT is also in the acquisition mode — including from Equinix itself. Last summer, the firm purchased from its rival eight data centers in Europe for $874 million and the sale of DRT's data center in Paris. The group purchased from Equinix includes five in London, two in Amsterdam and one in Frankfurt, representing 24.4 MW of IT load serving over 650 clients, with entitled expansions that could add another 14.9 MW of capacity in London and Amsterdam.
Hyperspeed, Meet Hyperscale
Jim Kerrigan of North American Data Centers cited 28 projects in the firm's January 2017 Data Center Real Estate Review of 2016 as the largest leases of the year, as measured by capacity in megawatts. Nine of the 10 largest leases were the result of "hyperscale cloud leasing activity" by Microsoft and Oracle, with half of those big deals occurring in Virginia. Kerrigan said the two companies' leasing drove a 25-percent overall increase in leasing activity from 2015, a historic high. Among the report's other highlights, it noted that "new data center projects in Quebec and Toronto will create new Multi-Tenant Data Center (MTDC) assets in Canada, and while the decrease in the Canadian dollar has brought down construction pricing, rental rates remain significantly higher than US markets."
In a world where all companies are turning digital, and in which some facilities are serving multiple purposes the cross boundaries between traditionally siloed functions, Kerrigan noted, "Navigating the differences between the real estate and IT markets is increasingly difficult." Among his other insights, "A small set of developers are delivering capacity near $5 million per MW. This is a confusing number often reflecting incremental capacity and less resiliency."
At the same time, he noted, there were several occasions in 2016 where major tenants have terminated leases early, "providing some very attractive plug-and-play space. It remains to be seen whether density will be sufficient or excessive in markets such as Ashburn and Chicago in 2017."
The same "hyperscale" modifier appeared in CBRE's year-end report on the sector, but the service provider noted that "net occupancy gains across the major US data center markets continued at robust levels in 2016, nearly matching the record highs in 2015."
2016 net absorption totaled 195 MW across the major data center markets of Atlanta, Chicago, Dallas/Ft. Worth, New York/New Jersey, Northern Virginia, Phoenix and Silicon Valley, CBRE reported, slightly below the 200-plus-MW of absorption in 2015.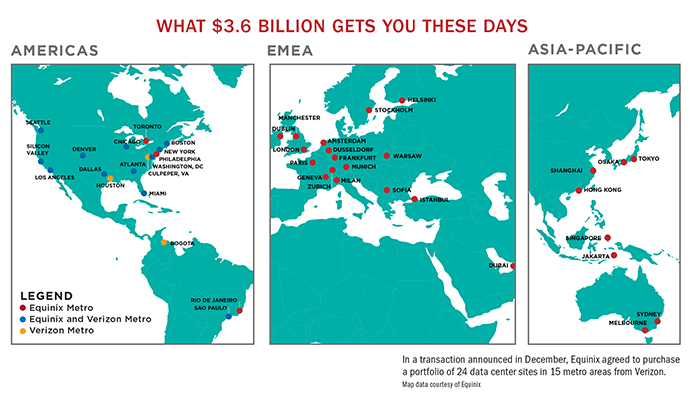 "The Northern Virginia market was a clear outperformer in 2016, as net gains tallied 84.4 MW, eclipsing previous record highs," said the report. "Taking into account several large pre-leases, gross leasing volume in Northern Virginia nearly exceeded 140 MW in 2016. The next closest markets in terms of net absorption were Dallas/Ft. Worth (37.6 MW) and Chicago (36.2 MW)."
"An enormous amount of activity continues to occur as pre-leasing in future projects," said Jeff West, director of data center research, CBRE. "More than 111 MWs of pre-leased space is under construction and is indicative of the sheer magnitude of leasing being driven by CSPs [cloud service providers] over the past several quarters, with only a handful of multi-megawatt-sized transactions in 2016 that were not cloud-related."
The report also noted a subtle evolution: "Although computing power and information storage needs of this user base continue to soar, the accelerated adoption of cloud and managed services being incorporated into enterprise IT solutions have somewhat reduced the size of historically typical wholesale and retail colocation deals," it said. "For example, in a market like Dallas/Ft. Worth, which has yet to see the types of hyperscale CSP-driven demand as in other major markets, transaction sizes averaged 1 MW or less in 2016 despite the high volume of absorption."
"The C-suite at most enterprises has arguably never been more attuned to the costs, potential risks and pitfalls of building and operating their own data centers," said Pat Lynch, senior managing director, Data Center Solutions, CBRE. "The result in 2017 will likely be a continued wave of enterprise data center facilities becoming available as companies continue to migrate to hybrid IT solutions (cloud, colocation and others) and their enterprise data centers become a smaller part of their IT footprint."
Raising the Sustainability Bar
In January, Las Vegas–based Switch — with a major data center campus under development in Michigan as well — announced it is the first multi-tenant data center provider in the world to receive a perfect score in the six-year history of Greenpeace's Clicking Clean report, which evaluates the energy demand of the Internet and the energy choices made by individual companies.
Switch's high score reflects its use of "100-percent renewable energy for all of its data centers, the company's commitment to 100 percent renewable energy for all operations, its renewable energy advocacy, its greenhouse gas emission transparency, and its industry-leading energy-efficient data center design," said the company. The U.S. Department of Energy estimates that in 2015, data centers consumed more than 2 percent of all energy in the United States, so the profile of renewable power is growing, including at such groundbreaking projects as Google's data center at the former Widow's Creek coal-fired power generation station in Alabama.
Some places are raising the bar further. Take a distinctly un-terrible development in Sweden: the use of data center heat in district heating systems in communities.
Stockholm Data Parks is an initiative by the City of Stockholm, district heating and cooling provider Fortum Värme, power grid operator Ellevio and dark-fiber provider Stokab.
"Our vision is a data center industry where no heat is wasted," says the consortium. "We see data center excess heat as a valuable resource that can be part of fighting climate change. The City's objective is to be entirely fossil fuel free by 2040, and we invite data centers to play a key role in this transition. To make it happen, we target to make Stockholm an attractive hub for large data centers which employ heat recovery. We do it by bringing together, preparing and offering all the necessary infrastructure elements at attractive greenfield sites and sites for conversion suited for data center activity."
Customers include fashion retailer H&M, colocation provider Interxion, Bahnhof and Ericsson, which is deploying the solution at its global ICT hub in Roserberg, outside Stockholm, as well as in the city of Kista.
Stockholm has the largest heating network in the Nordics and the world's largest cooling network. With more than 10,000 buildings connected to the heating network, it represents a "heat sink" of 12 TWh — the equivalent of 1 billion kilowatt-hours.