Get to know Formula 1's new American owner
---
Click here to view original web page at www.bizjournals.com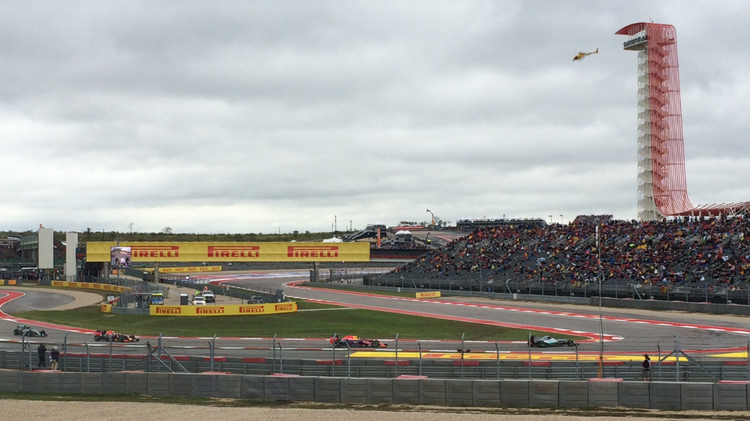 Formula 1, the international racing sport that brings a flood of global attention and tourists to Austin each year, agreed Wednesday to be bought by Liberty Media, a Colorado-based holding company, in a transaction valued at $4.4 billion.
The deal starts with Liberty Media, owned by cable tycoon John Malone, taking a minority stake, then total ownership after certain conditions are met. The company sees big opportunity to increase promotion and events surrounding the Formula 1 races, which are coveted by TV and other media businesses around the world, CEO Greg Maffei said Wednesday during a conference call about the deal.
"We see a business that's well run and extraordinarily successful," he said. "It's virtually unparalleled to bring as much cash to the bottom line ... as Formula 1 does."
Formula 1 only hosts one race each year in the United States — the U.S. Grand Prix at Austin's Circuit of The Americas. This year's race is set for Oct. 21-23. Although attendance has slumped for recent F1 races at COTA and the track has been mired in a funding dispute with the state, the venue remains an economic hot spot in Southeast Austin as it hosts other events such as concerts and the Grand Prix of the Americas motorcycle race. It is regularly one of the top alcohol sellers in the Austin area.
Liberty Media paid $746 million in cash to acquire a 18.7 minority stake in Delta Topco, the parent company of London-based Formula 1, as the opening stage of the deal.
The remainder of the purchase will involve Liberty Media paying $1.1 billion cash and 138 million newly-issued, non-voting shares of the Liberty Media Group (Nasdaq: LMCK) tracking stock with an estimated value of $2.93 billion. There will also be another $351 million of debt instruments issued by Formula 1 that can be exchanged for shares of Liberty Media Group stock, the companies said.
The transaction's second stage cementing Liberty Media's ownership is pending approval of company shareholders, the FIA governing body for Formula 1 racing and, in some countries, anti-trust authorities. The second part of the deal is expected to close in early 2017.
Liberty Media is buying control of Formula 1 primarily from private equity firm CVC Capital Partners, which bought the race series in 2006.
Chase Carey, an executive close to media baron Rupert Murdoch, was named chairman of Formula 1. Bernie Ecclestone, CEO and for decades the driving force behind Formula 1's growth, will remain in that role.
Maffei praised Ecclestone's leadership of Formula 1, calling him an icon of the sport.
Formula 1 is run like a franchise, handling branding rights, television rights for the races and sponsorship deals, but leaving racing team and track ownership to others.
The auto-racing series reaches hundreds of millions of people globally — the Wall Street Journal pegged its TV viewership as 425 million people worldwide.
Carey is board chairman of the TV company Sky Plc., a broadcaster in Britain, Italy and Germany that recently reached a broadcast deal with Formula 1.
As a live sports event business with a large fan base, Formula 1 is an entertainment property that should see premium demand from other media companies, he said.
"This is truly a global business with 21 races in 21 countries on five continents," he said.
Under Liberty Media's ownership, promotions and marketing of Formula 1 will be increased, as will the race business' nascent digital media distribution, Carey said.
Liberty Media, which owns 35 percent of event promotion and ticketing giant Live Nation, should be able to borrow from that expertise and its media heritage to help Formula 1 grow, he said.
"It's really about building the live experiences of these races, which truly are amazing events," he said. "They're great today, but I think we can take them to another level by adding new dimensions."

Formula 1 cars are the cutting edge of automotive technology, Carey and Maffei said. The tech-savvy audience drawn to the sport present opportunities to extend racing event promotion to digital platforms, video games and emerging technologies, they said.
Liberty Media said it will offer Formula 1 car teams opportunities to invest and take ownership stakes in the race series once the deal for its complete ownership closes. The addition of new races in the series may be possible, too.
That may be music to the ears of some Grand Prix racing fans, who've lamented what they perceive as a lack of investment in the sport's development under CVC's ownership.
Two other Malone companies were rumored in 2014 to be on the verge of acquiring Formula 1. Those were Liberty Global, the multinational cable TV and broadband company that owns cable systems throughout Europe, and Discovery Communications, the international media company whose properties include the growing Eurosport television channel.
Liberty Media Corp. owns the Atlanta Braves baseball team. Liberty Media's two biggest holdings are its ownership stake in Sirius XM satellite, which Liberty controls, and Live Nation, the music promotion and event ticketing company.
Amy Yong, an equities analyst with Macquarie Securities, sees Liberty Media being able to "leverage Liberty's deep relationships" in cable TV and other distribution.
Liberty Global has 22.5 million video subscribers. The second-biggest U.S. cable company, Charter Communications, has Malone's Liberty Broadband as its biggest shareholder. Charter has 16.9 million video subscribers.
Once the deal is complete, Liberty Media will assign the assets and liabilities of the Formula 1 business to its Liberty Media Group tracking stock. The company said it intends to change the division's name to Formula 1 Group and its stock ticker to FWON.
Greg Avery covers tech, telecom, aerospace, bioscience and media for the Denver Business Journal and writes for the "TechFlash" blog. Phone: 303-803-9222.