Austin ridesharing gold rush creates business for app makers
---
Click here to view original web page at www.bizjournals.com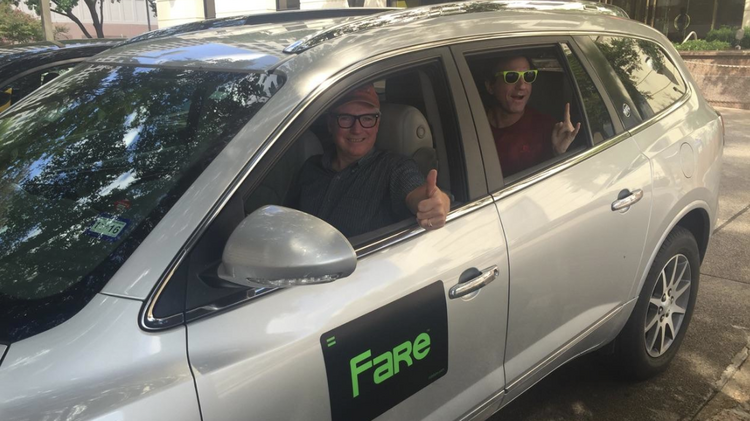 The rush to replace ridesharing giants Uber and Lyft in Austin has presented big business opportunities for enterprising startups, including mobile application developers.
Amadeus Consulting, based in the Denver suburb of Boulder, developed the app for Ride Fare LLC, one of eight ridesharing apps currently operating in Austin.
"Fare literally turned the app on and they had customers," said John Basso, who is both chief information officer for Amadeus and chief technology officer for Ride Fare. "This was a much different growth curve than most startups have."
Fare was started by Michael Leto, an executive and co-founder at GlobalTranz Inc., a booming Phoenix logistics company for which Amadeus built a lot of software. ABJ profile Leto in late June, when he spoke about Ride Fare's strategy and offered advice for other entrepreneurs.
Leto had already launched Fare in test mode in Phoenix when, on May 9, Austin voters approved a measure requiring ridesharing companies to fingerprint would-be drivers as part of their background screening.
Uber and Luft, which pioneered and dominate the U.S. ridesharing industry, opposed the idea as an unnecessary burden. They promised to leave Austin if the measure passed.
They turned off their apps in the city after it did.
Suddenly, one of the nation's fastest-growing and most tech-savvy cities no longer had Uber or Lyft, threatening to strand thousands of people accustomed to hailing a ride through their phones.
Within in a week, Fare was up and running in Austin. It agreed to Austin's fingerprinting requirement for drivers, along with the seven other companies operating in the Texas capital. All recently reported they are meeting the city's benchmarks for compliance.
A trio of Amadeus software developers joined Ride Fare's technology team to quickly build up the app and back-end administrative software to handle operating in an established ridesharing market. Amadeus also helped find tech workers for Fare, Basso said.
Amadeus employs 70 people in Boulder and has worked with big-name companies including Google, Microsoft and Humana. It has also helped dozens of startups launch their technology, Basso said, usually doing the heavy lifting on early software development and becoming less involved as the startups establish their business and amass the resources to hire their own software staff.
Fare has been more intense than most startups given the immediate scale of business it was doing, Basso said.
Austin residents took 355,000 ride-sharing trips in July, according to Austin city statistics. Fare says it accounted for 22 percent of those rides volume, leaving seven other companies to split up the rest.
Fare, which has moved its headquarters to Austin, is gaining traction there and appears to have a bright future, Basso said.
Fare allows customers to request a specific driver and set up rides ahead of time. Basso said those features mean Fare should hold its own if Uber and Lyft bring their ridesharing services back to Austin. Both companies have quietly met with city officials.
Basso said he spends the majority of his time now working on Fare and doesn't expect that to change, given a backlog of drivers in Austin — and the company's plans to potentially launch in another city in early 2017.
"It's pretty hard to predict, because I don't see Fare slowing down," he said. "I think the demand is just going to grow between passengers, drivers and cities."
Greg Avery covers tech, telecom, aerospace, bioscience and media for the Denver Business Journal and writes for the "TechFlash" blog. Phone: 303-803-9222.