Lone Star Rail future hinges on Monday vote
---
Click here to view original web page at www.bizjournals.com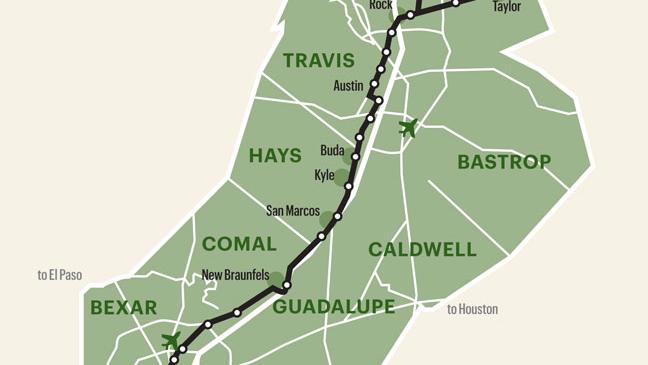 The future of a plan to link Austin and San Antonio by commuter rail hangs in the balance Monday night as regional transportation planners meet to consider the project's fate.
The Capital Area Metropolitan Planning Organization, which oversees transportation planning in the Austin region, will consider a measure at the meeting in Austin to remove the Lone Star Rail line from its long-range plans, effectively killing the project. The rail line was proposed to run from Georgetown, north of Austin, to KellyUSA, a redeveloping military base south of San Antonio. See the photo with this story for a full map of the proposed route.
But the plan was contingent upon using right-of-way owned by Union Pacific Corp.(NYSE: UNP). In exchange, the Lone Star Rail District would pay for the construction of a new rail line for the company to haul freight on.
Union Pacific abruptly backed out of the agreement in February, leaving Lone Star's plans in limbo. So far, the project has cost $23 million — out of a total $53 million in earmarked funds — in federal and state funds. It is currently in the midst of an environmental impact study for the project, but that was geared around the Union Pacific route. Alternative routes would need new impact studies.
In March, members of the Lone Star Rail District board discussed six possible alternative routes for the project, ranging from continuing to plan for the Union Pacific route in the hopes that railroad officials would consider using I-35 or SH-130 corridors. Members of CAMPO and its San Antonio equivalent, Alamo Area Metropolitan Planning Organization, dismissed those options as shortsighted, according to a memo produced from a June meeting between the executive boards for the two planning organizations.
"Unfortunately, we find ourselves no closer to a resolution with LSRD than when LSRD began this work in the late 1990s," the memo said. " A quick examination of LSRD's six options reveals serious issues with each option and does not warrant the additional expenditure of millions more in public money."
If CAMPO votes to back out on Lone Star Rail, the measure calls for the organization to use its savings, roughly $8.1 million, for other transportation planning between Austin and San Antonio.
The CAMPO meeting is scheduled for 6 p.m. in Room 3.102 of the Joe C. Thompson Center at Red River and Dean Keeton Streets.
Michael Theis covers local government, courts and economic development for the Austin Business Journal.