The complete field guide to Austin's ridesharing apps
---
Click here to view original web page at www.bizjournals.com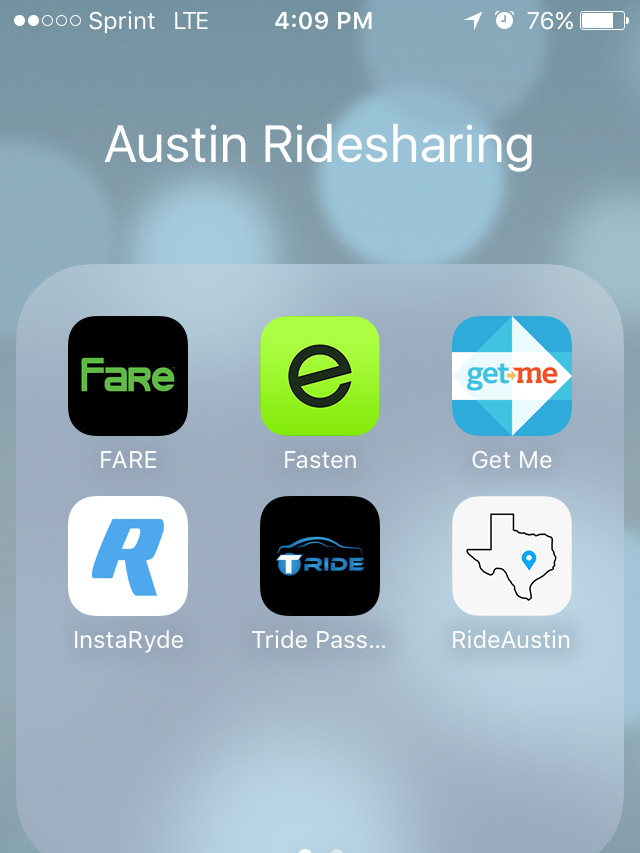 It's hard to keep track of all the new companies racing to fill the void left by the departure of Uber Technologies Inc. and Lyft Inc. from Austin. Since May 9, when those companies shut off their apps inside city limits, nearly a dozen companies have either set down stakes in the city or announced their intention to serve the market.
That's where we come in. At least once a week for the past several weeks, Austin Business Journal has been keeping track of the companies that have applied for "transportation network company" operating agreements with the city. We will update this list regularly, so bookmark this page for a handy reference.
The list is broken down by which companies have agreements with the city, which companies have applied for agreements and which companies have announced their intent to launch in Austin. This will help to separate the companies that are doing the talking from those doing the walking.
Companies with TNC operating agreements
ReDriver Technologies LLC: The newest kid on the block. Not much is known about this company, other than what can be gleaned from its website. Attempts to reach officials for comment Monday evening were not successful. Nevertheless, this Grand Prairie-based company has a TNC operating authority agreement with the city of Austin. Its main distinction from Uber and Lyft seems to be that it, like Fare, allows riders to schedule a ride in advance. The company has two smartphone apps, one for drivers and one for passengers, that can be downloaded from iTunes.
Fare Inc.: From Phoenix, Arizona, this company has been operating in Austin since the weekend after Uber and Lyft left the city. In a recent Facebook post, CEO Michael Leto said the company has signed up 5,000 drivers in Austin and given roughly 60,000 rides. Further, Leto said, the company paid 1,500 Austin drivers this past week, giving a sense of the true scale of the company here. The company has less than $2 million in disclosed financing but has announced it plans to move its headquarters to Austin.
Fasten Inc.: Boston-based Fasten launched TNC service in Austin on June 1. Backed by a $9.1 million investment from Russian entrepreneur Evgeny Lvov, who has run a popular Eastern European car service called Saturn since 1998, the company has the deepest pockets of any of the new entrants to Austin's ride-hailing scene. The company is notable for its bargain-basement fares, far cheaper than other competitors. The company takes only $1 per ride from the driver, where other companies typically charge a percentage of the final fare. Also, Fasten has a unique take on the surge pricing strategy where drivers can "boost" the prices they are willing to pay in order to incentivize drivers.
Get Me LLC: The oldest of Austin's Uber and Lyft rivals, Get Me has been operating in Austin since October 2015, when it was simply a concierge-style retail delivery service similar to Favor or Instacart. In December, as City Council was debating controversial revisions to Austin's rules for TNCs, the company began offering rides as well, changing its motto to "Get Me somewhere or something." The company has had notable bumps in the road, with widespread reports of glitches. But the company has released several updates to its app over the past few weeks in an attempt to address complaints, and has also disclosed it is pursuing a $2.5 million funding round. The company has now raised roughly $3.8 million since 2014.
Wingz Inc.: Initially launched in Austin on May 9 as an on-demand service to get to the airport, this San Francisco-based company rolled out a new service called WingzAround that is a more traditional ridesharing app but is unique for its flat-rate fares.
zTrip: zTrip is more of a service than a stand-alone TNC. Developed by Paris-based TransDev, zTrip lets traditional taxi and chauffeur companies add Uber-style service without developing their own apps. TransDev has already launched zTrip in Pittsburgh, Kansas City, Baltimore, Orlando, Tampa, Denver and Phoenix in partnership with taxi and transportation services. In Austin, where it launched shortly before South By Southwest, zTrip is organized under Del Valle-based company Carter Transportation Services Inc., which runs SuperShuttle and ExecuCar chauffeur franchises in the Austin area.
Uber Technologies Inc. (inactive): Uber is only hauling passengers outside Austin's city limits but it maintains a corporate presence here and continues its UberEATS food delivery service in the city.
Lyft Inc. (inactive): Likewise, Lyft only operates in the suburbs and continues to maintain a corporate presence in Austin. Unlike Uber, Lyft has explicitly said it will not drop-off passengers inside city limits, even if those trips originate outside of Austin.
Companies that have applied for but not received agreements
Companies that plan to expand into Austin but have not applied for agreements
Michael Theis covers local government, courts and economic development for the Austin Business Journal.