'Smart gun' maker TrackingPoint returns — much smaller than before
---
Click here to view original web page at www.bizjournals.com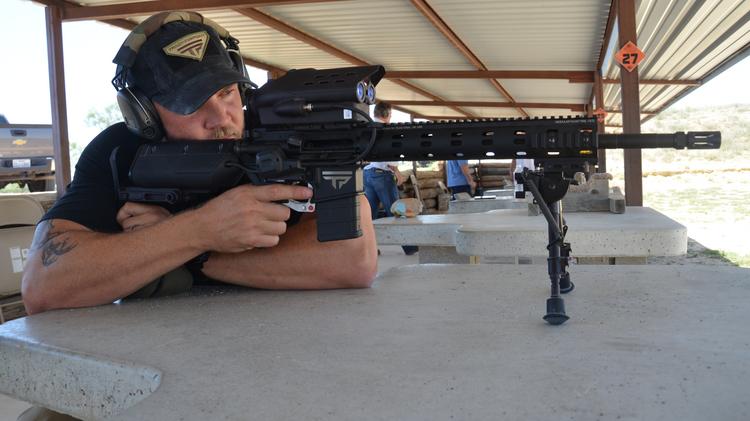 TrackingPoint Inc. is getting a second shot at the high-tech rifle business, though it's now a fraction of its former size.
The Pflugerville-based company, which made headlines across the world for its line of digital, wifi-enabled rifle scopes that automatically calculate bullet trajectories in such a way as to turn a novice shooter into a pinpoint sniper, announced Tuesday that it has emerged from receivership and has begun taking orders again, after dramatically cutting staff.
"It feels great to be back," McHale said. "Our customers are calling, and I've gotten emails that they're really happy to have pulled this off."
In May the company abruptly announced that it was no longer accepting orders for its line of products, which, in addition to the rifles, also included Google Glass-like wearable headsets and tablet apps that allowed users or third parties to virtually look through the scope without being behind the butt of the gun.
The May announcement came as a surprise for those who had read company announcements distributed less than three months earlier that said its sales had exploded over the previous year, with year-to-year unit growth of 281 percent and "booking dollars" of 107 percent. It had also raked in quite a bit of investor money, including a $29 million financing from 24 investors in August 2014.
While the company was in receivership, IT security researchers uncovered a design flaw that could technically allow a malicious hacker to tweak the settings on the rifle scopes, resulting in inaccurate shot placement or a completely disabled weapon. The researchers said at the time that they were not releasing the full details of the vulnerability due to the company's troubled status and presumed inability to fix it.
McHale, while downplaying the real-world feasibility of the hack uncovered by the researchers, said Tuesday that the newly revived TrackingPoint would soon be releasing an update fix for its apps.
The company today has only 10 employees — down from 105 this past January and 55 in May, according to McHale. Now, with $8 million in investor financing from Friedkin Group, Goff Capital Partners and McHale Labs, the company plans to operate at a smaller scale in the near-term, with the workforce peaking at about 20 employees.
McHale said that the company's abrupt entry into receivership was due to the same exponential growth it had lauded this past February.
"We grew very quickly and some of our back-office systems weren't implemented," said McHale. "We lost control of our inventories."
Earlier this year, TrackingPoint marketing officials said during a media event that it was gunning for lucrative contracts with military and law enforcement organizations. But the slimmed down company, while still eyeing those contracts, is now focused primarily on the consumer market.
"We are pursuing both market segments, consumer and defense," said McHale, noting that the U.S. Army had purchased and tested a few of its rifles before the company entered receivership. "But we're really focused on hunters, sportsmen, and tactical shooters that really want the ability to accurately shoot like a world-class marksman."
Further, McHale said the company was slimming down its product lines to three semi-automatic rifles and one bolt-action rifle, each outfitted with the company's high-tech scope, plus the wearable ShotGlass visors and other accessories.
McHale co-founded the company in 2011. He was replaced by Jason Schaubel in the CEO spot in May 2013. But Schauble didn't last long in the position, serving only seven months before leaving the company in November 2013 to become the chief revenue officer for Silencerco in Salt Lake City. He was then replaced by company co-founder John Lupher, who served as interim CEO through the end of 2014. Lupher was then replaced by Frank Bruno, who joined the company in January and led it until it entered receivership earlier this year. Lupher and Bruno have both returned to the company as the vice president of engineering and chief operating officer, respectively.
The company received an incentive package from the Pflugerville Community Development Corp. in 2013 when it relocated its headquarters there from Austin. But that incentive package was based, in part, on an economic impact study that concluded the company would generate about $7.68 million toward the tax base in the next 10 years.
While the details of that incentive agreement, which are typically tied to hiring projections, were not disclosed, the company's recent troubles have thrown those projections into question. A company spokesperson said that TrackingPoint officials were now in the process of negotiating new terms for its incentive agreement with the Pflugerville CDC, but no further details were available. Officials with the Pflugerville CDC could not immediately be reached for comment.