Texas suburbs, not cities, to grow the fastest by 2050; one Central Texas county will top them all
---
Click here to view original web page at www.bizjournals.com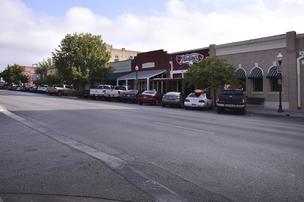 Hays County, just south of Austin, is projected to be the fastest-growing county, by percentage, in all of Texas by 2050, according to county-level data released by the Texas Office of the State Demographer.
The Austin Business Journal mapped the data at the county level, which you can see embedded below this article. The counties are colored from red, for negative growth, to black for positive growth. The darker the shade, the greater the projected percent change in demographics. Clicking on a county will bring up its specific population data. Are you viewing this on a mobile device and don't see a map? Click the "view full page" link below the article to see it.
According to the numbers, demographers project Hays County will grow by 464 percent by 2050, with more than 666,900 new residents swelling its population to 825,070 over the next 35 years.
Next in terms of percent growth is Collin County, north of Dallas, which demographers project will grow by 386 percent over the next 35 years, with the addition of more than 3 million residents growing its population from 782,341 to 3.8 million.
In terms of absolute growth, though, Harris County, which encompasses Houston, is set to see the largest number of new residents in the state by 2050, with 3.4 million new residents projected by then. But because the county is already large – it had more than 4 million residents as of 2010 – that's only a growth rate of 83.9 percent.
It's interesting to note that the Texas counties that encompass its largest metropolises are projected to grow at a much slower rate than their bordering suburban counties. Travis County, in which Austin sits, is projected to grow by only 96.3 percent, far slower than Hays County, as well as Williamson County to the north, which is projected to grow by 367.7 percent with the addition of 1.5 million new residents by 2050.
And in the Houston region, for example, Harris County's growth rate is dwarfed by projected growth in Fort Bend County to the south, which will grow by 367.8 percent with the addition of 2.1 million new residents by 2050.
It's also interesting to note that, of all Texas metro regions, San Antonio is set to grow at the slowest rate over the next 30 years. Bexar County, in which San Antonio sits, is projected to grow by 85 percent by 2050, with 1.4 million new residents growing its population to 3.1 million. Its fastest growing suburban county, Guadalupe County, is projected to expand its population by 209.7 percent by 2050, from 131,500 in 2010 to 407,388.
But perhaps only in Texas, it seems, can we look at 200 percent population growth for a county and consider it slow. It's a testament to just how fast demographers project Texas' population to grow overall, with the state population projected to roughly double in size by 2050.
Not all counties in Texas are projected to grow however. But, unsurprisingly, the counties that are projected to shrink the fastest are, for one, losing relatively few people overall, and are already sparsely populated rural areas. Loving County, bordering New Mexico in the Western Panhandle, is projected to lose 51 percent of its population by 2050. But only 82 people lived there in 2010. In terms of absolute numbers, Newton County, bordering Louisiana in East Texas, is projected to lose the most residents, shrinking by more than 2,870 residents by 2050 for a growth rate of -19.9 percent.
Texas' 10 fastest growing counties by 2050 (Percent)
Hays County; 2010 population - 157,107; 2050 population - 824,070; Change - 666,963; Percent change - 424.50%
Collin County; 2010 population - 782,341; 2050 population - 3,801,840; Change - 3,019,499; Percent change - 386.00%
Fort Bend County; 2010 population - 585,375; 2050 population - 2,738,553; Change - 2,153,178; Percent change - 367.80%
Williamson County; 2010 population - 422,679; 2050 population - 1,976,958; Change - 1,554,279; Percent change - 367.70%
Denton County; 2010 population - 662,614; 2050 population - 3,031,597; Change - 2,368,983; Percent change - 357.50%
Montgomery County; 2010 population - 455,746; 2050 population - 2,061,972; Change - 1,606,226; Percent change - 352.40%
Rockwall County; 2010 population - 78,337; 2050 population - 333,656; Change - 255,319; Percent change - 325.90%
Kaufman County; 2010 population - 103,350; 2050 population - 438,487; Change - 335,137; Percent change - 324.30%
Parker County; 2010 population - 116,927; 2050 population - 453,381; Change - 336,454; Percent change - 287.70%
Bastrop County; 2010 population - 74,171; 2050 population - 272,723; Change - 198,552; Percent change - 267.70%
Texas 10 fastest growing counties by 2050 (Absolute)
Harris County; 2010 population - 4,092,459; 2050 population - 7,527,827; Change - 3,435,368; Percent change - 83.90%
Collin County; 2010 population - 782,341; 2050 population - 3,801,840; Change - 3,019,499; Percent change - 386.00%
Denton County; 2010 population - 662,614; 2050 population - 3,031,597; Change - 2,368,983; Percent change - 357.50%
Fort Bend County; 2010 population - 585,375; 2050 population - 2,738,553; Change - 2,153,178; Percent change - 367.80%
Tarrant County; 2010 population - 1,809,034; 2050 population - 3,497,034; Change - 1,688,000; Percent change - 93.30%
Montgomery County; 2010 population - 455,746; 2050 population - 2,061,972; Change - 1,606,226; Percent change - 352.40%
Williamson County; 2010 population - 422,679; 2050 population - 1,976,958; Change - 1,554,279; Percent change - 367.70%
Bexar County; 2010 population - 1,714,773; 2050 population - 3,179,649; Change - 1,464,876; Percent change - 85.40%
Dallas County; 2010 population - 2,368,139; 2050 population - 3,528,964; Change - 1,160,825; Percent change - 49.00%
Hidalgo County; 2010 population - 774,769; 2050 population - 1,779,370; Change - 1,004,601; Percent change - 129.70%